---
GNAZIM – ARCHIVE OF HEBREW WRITERS, ISRAEL
The Gnazim Institute of the Hebrew Writers Association in Israel is the largest Hebrew literature archive in the world.
More than 750 archival collections of writers, poets, essayists and playwrights from the late 19th century to the present, are preserved here. Among the literary artists whose archives are kept in Gnazim are Y.L. Gordon, Shaul Tchernichovsky, Yosef Haim Brenner, Yehuda Burla, Rachel, Esther Raab, Leah Goldberg and Zelda and well-known contemporary writers including Yona Wallach, Avot Yeshurun, Yehuda Atlas, Nachum Gutman and Yonatan Ratosh.
The collections include manuscripts, letters, various personal documents and photographs, as well as a unique collection of recordings. Included are manuscripts and letters of writers who perished in the Holocaust, among them David Fogel, Hillel Zeitlin and Shimon Dubnov. The archives of well-known Yiddish authors, including Zvi Eisenman, Mordechai Tzanin, and the important archive of David Hofstein, who was executed in the  Soviet Union in 1952, are also preserved in Gnazim.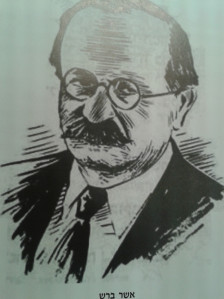 The archive was established in 1951 by the Hebrew Writers Association in Israel, at the initiative of the writer and editor Asher Barash. The purpose of the archive was to assemble and preserve the works of the Hebrew authors who lived and worked in different countries and in Israel. After Barash's death, the institute was named after him.
Researchers, academics and journalists from Israel and the world use the archive's treasures for  their studies, books or film making.
Thes archive provides an on-line catalogue and gradually makes documents available on-line for the public's benefit.
We can be reached by e-mail: gnazim11@bezeqint.net  and by phone: 03-7240549
Message from Adiva Geffen – Gnazim Chairman
Allow me to explain to you what Gnazim Archive is. Let's begin with a true story. One of our prominent poets Shaul Tchernehovsky (a very difficult name to pronounce) who was, by profession, a pediatrician, sat in his hospital's office some times in the end of the thirties, suddenly he was inspired, and an idea for a poem came to his mind. He wanted to write it down, but of course there was no computer, no typewriter and even paper was scarce. So he grabbed a calendar that stood on his desk, a calendar of pharmaceutical company with advertisement of a very good laxative on it and he wrote down the poem, a poem that to this day is being taught in every school in Israel. A real classic. Today this calendar, with his hand writing, with all these erasures and corrections on it, is in Gnazim. So, you may ask what is so special about it? Well… think about a stamp, the penny black stamp. Why was it sold for 100 thousand dollars? Because it is unique, and only one example exists in the whole world. So is the calendar of our poet. Of course nobody will pay so much money for it, but for the Israeli culture and heritage it is precious even more than the penny black. The Gnazim archive treasures millions of manuscripts of poems and books, some written on cigarettes' packs, letters of poets and authors, all materials in Hebrew that these poets and writers kept in their disposal. Gnazim of the Hebrew writers association in Israel is the largest Hebrew literature archive in the world, including the personal archives of eight hundreds of prominent creative artists in Hebrew,  collects millions of artifacts. Recently we initiated a huge project with Harvard University USA to scan it all. By the way, that poet, Shaul Tchernechovsky, translated into Hebrew all writings of Rabindarnat Taore. There is an interesting story about it, but we shall leave it for another occasion…
An Archive of Jewish Literary Creativity
by Asher Barash, 1951
I have reflected at the fate of works by Hebrew writers, alive or dead, as I have seen in recent years many authors disappear, more than nature's way oblige. There is no knowledge as to the whereabouts of their literary heritage and anything related to their work. Even those writers living among us, do not have the necessary amenities to honor our literature. Very little of their heritage is preserved, and whatever exists does not add up to something of value – I do not mean published books, but manuscripts, letters, reviews, newspaper clips, photos etc. In the past, there were sons who kept the endeavor of their spiritual fathers. Today this "institution", meaning sons, is collapsing. The existing libraries cannot absorb the estates. There is a growing attitude of disrespect toward the past. Therefore, the time has come for us, the writers, to act. While the Middle Ages literature is being taken care by institutions in Israel and abroad, almost nothing has been done for the current literature. This flaw must be corrected. Every day something is forgotten, every day something is lost. It must not be delayed. The immediate goal: to open an "account" for each writer, consisting of small or large items. Nothing is to be underestimated. A miniscule detail sometimes brings results to better understand the writer and his creative work. In the course of time, we shall try to enlarge the institution and include material of folklore, Hebrew language: in due time it will be an archive and gathering place for the entire Jewish creative work, for collecting writings by Jews in any language, first and foremost – Yiddish. Undoubtedly, the National Library and the University will continue their work, but here will be the main treasure: pipes will connect it to the other establishments. In short, I see a wide field for this institution. It is worthwhile to dedicate time, effort and work. At this moment, when our nation embraces forces and assembles the diaspora, it is appropriate for us to perform this mission. A work of such extent will require a great budget, the Israeli Knesset has to be the one to see to it. The time may have arrived to publish a plan and a description of our aims and direction.
---